Be a part of a new Thanksgiving tradition – adopt a turkey!
In 1986, Farm Sanctuary began its annual Adopt-A-Turkey Project. This unique effort has saved thousands of turkeys from the slaughterhouse, and encouraged millions of people to be kind to animals. This Thanksgiving, hundreds of families are feeding turkeys, instead of eating them, by adopting feathered friends who live at Farm Sanctuary.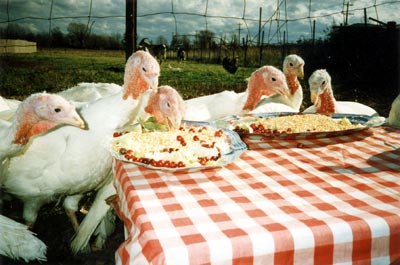 Turkeys celebrating Thanksgiving (photo: Farm Sanctuary)
Farm Sanctuary's Adopt-A-Turkey Project offers two ways for people to adopt turkeys this Thanksgiving holiday, either as sponsor or home adopter.