Peaches or papayas? What to buy organic.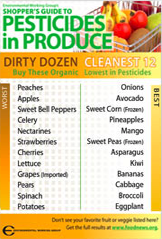 For years, you've been able to choose foods with less fat or fewer additives. Now, with Environmental Working Group's 4th edition of the popular Shopper's Guide to Pesticides in Produce, you can minimize your chemical exposure in the produce aisle. Just go to http://www.foodnews.org/getguide/.
EWG always recommends organic, but you can't always find it. The new Guide features the 12 fruits and veggies with the most and least pesticides so you'll know which ones to buy organic, and which conventionally-grown ones are okay when organic isn't available.
How'd they do it? EWG analyzed over 42,000 of the latest government tests for pesticide residues on commonly-eaten fruits and vegetables. Then they ranked the results based on six measures of pesticide loads, even after washing and peeling. Download your printer-friendly PDF Guide in English or Spanish today: http://www.foodnews.org/getguide/.