Vegan Carrot Cupcakes
We had fun today making cupcakes in cups, and, they tasted great too. These have a nice spicy flavor, almost like pumpkin pie or an applesauce cake. We enjoyed a simple vegan butter cream frosting, with sprinkles, although a lemon frosting would also be good.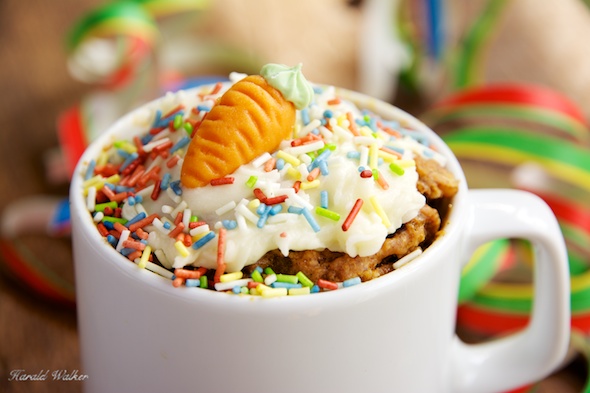 Yield: 12 regular or 6 in teacups
Ingredients:
for the cupcakes:
1 & 1/2 cups carrots, peeled and grated
1 & 1/2 cups AP flour
1 cup raisins
1 cup walnuts, chopped (optional but nice)
1/2 cup sugar
3 egg replacements (we used "No Egg" by Orgran)
1/2 cup applesauce
1 & 1/2 teaspoons baking soda
1 teaspoon baking powder
1/4 cup coconut oil, warmed to a liquid form
1/2 teaspoon salt
1/2 teaspoon cinnamon
1/2 teaspoon ground cloves
1/2 teaspoon nutmeg
for the vegan butter cream frosting:
1/2 cup vegan margarine, room temperature
3 cups powdered sugar, sifted if it is lumpy
1/4 cup non-dairy milk (coconut, soy, etc.)
1 teaspoon vanilla flavoring
Directions:
Prepare your cupcake forms by spraying with oil, spreading vegan margarine, or using cupcake papers.
Preheat the oven to 350 F / 177 C.
Create the egg replacements according to instructions.
Peel the carrots and finely grate them.
Place the carrots in a medium bowl.
Chop the walnuts.
In a larger bowl, place the flour, baking soda, baking powder, salt, cinnamon, cloves and nutmeg.
Whisk the dry ingredients together to mix them well.
To the carrots, add the sugar, applesauce, egg replacement, liquid coconut oil and mix well.
Add the raisins and walnuts to the carrots and mix.
Add the wet ingredients to the dry and mix just enough to moisten evenly.
Fill each cupcake form 3/4 of the way with the batter and place the cupcake forms in the oven to bake for 35-40 minutes or until the tops are firm and a wooden skewer as tester comes out dry.
When the cupcakes are done, remove from the oven and allow to completely cool before frosting.
for the frosting:
Cream the room-temperature (softened) vegan margarine with the sifted powdered sugar.
Add the non-dairy milk a little at a time as you are creaming the sugar and margarine.
Add the vanilla flavoring.
Frost the cupcakes once they have cooled.
We used vegan sprinkles also to decorate the cupcakes and little carrot decorations.
Notes:
If you want to make a lemon frosting, then substitute the lemon juice for the non-dairy milk and vanilla.
Categories
Support us
Offering you this site with free recipes without advertisements or sponsored posts costs time and money. Please support our work and keep us going in following ways:
Buy our cookbook
License our stock photos
Visit
vegalicious
photos
for our portofio of authentic vegan food stock photos and videos.