Yellow Beet and Pear Soup with Walnuts
This is the first year we have grown yellow beets. They are so delicious. We can't wait to grow more next year. This is a lovely light soup.
Serving Size: 4
Ingredients:
3 medium large yellow beets
2 tablespoons oil
1 medium onion, chopped
1 clove garlic, minced
3-4 ripe pears
2 cups vegetable bouillon
1/2 dry white wine
2 tablespoons agave or maple syrup
1 cup soy cream or soy yogurt optional
salt and pepper to taste
handful walnuts as garnish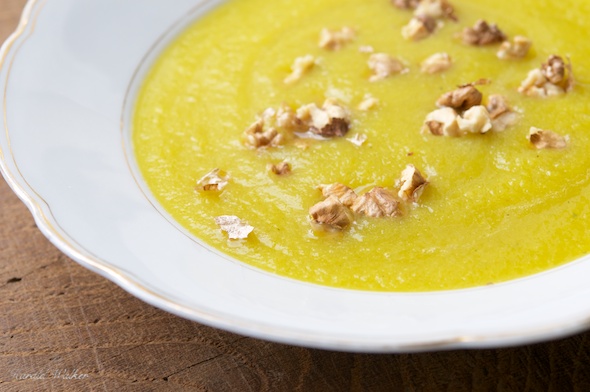 Directions:
As it was the hight of summer, we did not want to start up the oven and roast the beets, so we peeled, sliced and cooked them as usual. If you would prefer, you could also roast them. Therefore, you should wash them well, pour a bit of olive oil on them and roast in a pre-heated 450 (F) oven for about 40 minutes.
Heat the oil in a soup pot.
Add the chopped onion.
Wash the beets, peel them and slice into the pot.
Add the vegetable bouillon and garlic.
Allow the beets to cook until they become soft.
Peel the pears and add to the soup,
Optionally reserve 1/2 of one pear to slice as garnish if you wish.
When the beets and pears are soft, puree the soup.
Add the wine and agave syrup.
Season to taste with salt and pepper.
Optionally, if you want it to be creamier, add the soy yogurt or soy cream. We did not do this as we found it to be a lovely soup as it was.
Toast the walnuts and gently sprinkle over the top to serve.
Notes:
Optionally you could sprinkle some non-dairy cheese on top, although we felt that the flavour would overpower the mild flavour of the beets. We really enjoyed the walnuts as garnish.
Categories
Support us
Offering you this site with free recipes without advertisements or sponsored posts costs time and money. Please support our work and keep us going in following ways:
Buy our cookbook
License our stock photos
Visit
vegalicious
photos
for our portofio of authentic vegan food stock photos and videos.