Blueberry pasta
This makes a very nice light dessert or snack.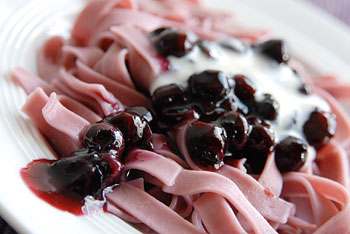 Serving Size: 4
Ingredients:
for the blueberry pasta dough:
1 cup semolina flour
2 tbs. oil
1/2 cup blueberry puree
for the blueberry puree:
100 grams blueberries, washed
2 tbs. sugar
juice of 1 lemon
1/4 cup water
dash cinnamon
for the amaretto cream sauce
1/4 cup soy cream
1 tbs. powdered sugar
1 cap full almond flavor
3 tbs. amaretto
Directions:
Make the blueberry sauce/puree first, as you need some to make the pasta.
Place the blueberries in a saucepan, cover with water, add the sugar lemon juice and cinnamon and cook over a medium heat.
Once the berries have slightly popped, take out 1/2 of the sauce and berries to use for the pasta. Mash with a fork or puree with a blender.
Using a food processor make the pasta dough so that it forms a solid ball.
Roll the dough out on a lightly floured surface and cut the tagliatelle shaped strips, or wind through a pasta machine.
Let the pasta dough dry while you make the amaretto sauce.
Mix the ingredients for the amaretto sauce together for a creamy smooth sauce.
Cook the pasta in boiling water until al dente…it will only take 3-4 minutes if the pasta is fresh.
Serve the pasta with the amaretto sauce and the blueberry sauce.
Notes:
It can be made non-alcoholic by omitting the amaretto and using almond flavor instead.
Categories
Support us
Offering you this site with free recipes without advertisements or sponsored posts costs time and money. Please support our work and keep us going in following ways:
Buy our cookbook
License our stock photos
Visit
vegalicious
photos
for our portofio of authentic vegan food stock photos and videos.