Mushroom Ragu on Gnocchi
This is such a handy meal to make. It's quick and easy and filling. Great for cold winter's nights. You can use any kind of mushrooms available and what you prefer. We have made our own gnocchi often, but we also keep remade packaged gnocchi on hand when there isn't time to make gnocchi from scratch.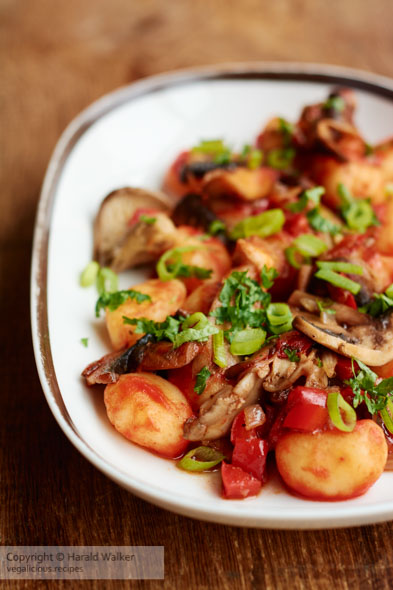 Serving Size: 4
Ingredients:
1 onion, chopped
3 tablespoons cooking oil
2 pounds mixed mushrooms, we used button and oyster mushrooms
1 red bell pepper, de-seeded and chopped
1 can crushed tomatoes, (about 1&1/2 cups)
2 tablespoons tomato paste, ajvar or sriracha sauce
Italian herbs
1/2 teaspoon ground coriander
2 pounds gnocchi
chopped chives and parsley as garnish
Directions:
Clean the mushrooms by gently brushing them or using a paper towel. If the mushrooms are large, cut in half or quarters.
Chop the onion.
De-seed and chop the red bell pepper.
Heat the oil in a large frying pan.
Add the red bell pepper pieces to the oil and saute until the begin to soften.
Add the onion pieces to the red bell peppers and saute until glassy.
Bring a large pot of lightly salted water to boil to cook the gnocchi.
Add the mushrooms and cook until soft.
Add the crushed tomatoes and mix gently.
Add the tomato paste or ajvar or sriracha sauce.
Season to taste with salt, pepper and the Italian seasonings.
Add the gnocchi to the boiling water.
Cook the gnocchi until the begin to float.
Drain the water from the gnocchi.
Chop the chives and parsley
Serve the gnocchi with the mushroom ragu on top and garnished with some chopped chives and parsley.
Categories
Support us
Offering you this site with free recipes without advertisements or sponsored posts costs time and money. Please support our work and keep us going in following ways:
Buy our cookbook
License our stock photos
Visit
vegalicious
photos
for our portofio of authentic vegan food stock photos and videos.