Bengali risotto
Eggplant, spinach, mint and tamarind risotto with tofu.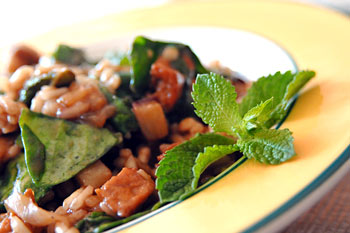 Serving Size: 4
Ingredients:
1 tbs. oil
1 onion, thinly sliced
2 eggplants cut into cubes
150 grams tofu, cut in bite sized pieces
1 red chili, deseeded and thinly sliced
2 tbs. tamarind paste
1 tbs. brown sugar
250 grams risotto rice
10 g fresh mint leaves, chopped
150 grams fresh spinach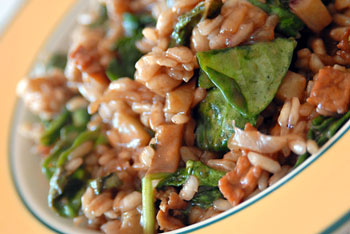 Directions:
In a large frying pan , warm the oil over a medium heat.
Add the onion and saute until brown.
Add the tofu and cook until the tofu is lightly browned.
Add the cubed eggplant, half of the sliced chili, a tablespoon of tamarind and the brown sugar.
Stir-fry for 5 minutes until the eggplant is golden and beginning to soften.
Remove from the heat.
Meanwhile, cook the rice according to the instructions on the pack.
Then add the rice, chopped mint, spinach and the remaining tamarind to the eggplant, tofu and onion mixture.
Toss all of the ingredients together until the spinach begins to wilt.
Scatter the remaining chili slices over the top of the dish and serve immediately.
Categories
Support us
Offering you this site with free recipes without advertisements or sponsored posts costs time and money. Please support our work and keep us going in following ways:
Buy our cookbook
License our stock photos
Visit
vegalicious
photos
for our portofio of authentic vegan food stock photos and videos.