Pumpkin gnocchi
These pumpkin gnocchi have a lovely mild flavor, with the nutmeg, they are rather sweet and nutty. The sage eaves add a nice musky flavor to the sauce, and a hint of grated soy cheese on top would finish it off to be a tasty fall recipe.
Serving Size: 2
Ingredients:
1 cup pumpkin, cooked and mashed (1 small pumpkin, about 2 pounds or 1/2 kilo)
2 cups flour
1/2 teaspoon allspice
1/2 teaspoon cinnamon
pinch garlic powder
pinch cayenne pepper
1 clove garlic, minced
2 tablespoons olive oil
1 tbs. soy margarine
1 tbs. red chili pepper
1 tbs. vegetable bouillon powder
12 sage leaves
2 teaspoons nutmeg
salt and pepper to taste
Directions:
Cut the pumpkin, if it is organic you can leave the skin on, if not, cut away the outer parts, de-seed and cut into medium size chunks.
Place them in a pot with very little water and steam them until soft..is only about 5 minutes or so.
Remove from the heat and puree or mash with a potato masher.
Add the pinch of garlic powder, the pinch of cayenne pepper, 1 tsp. of nutmeg, 1 tablespoon of olive oil and the allspice and mix well.
Slowly mix in flour and knead until it forms a smooth dough. If it is too wet, add a bit more flour until it is a smooth ball of dough.
Let it rest for 30 minutes.
Divide the dough into bite sized pieces.
Mark them with a fork.
Cook them in boiling water until they float
In a smaller sauce pan, saute garlic with olive oil and soy margarine.
Add the red chili pepper, the vegetable bouillon powder and the sage leaves.
When ready to serve, pour the sauce over the gnocchi and mix well.
Dust with cinnamon and grate a bit of soy cheese over the top.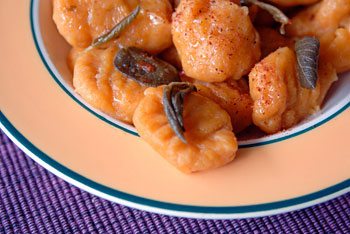 Notes:
They are a bit messy to make but easy. You can also make them ahead of time earlier in the day and they can then wait until just before serving to be cooked.
Categories
Support us
Offering you this site with free recipes without advertisements or sponsored posts costs time and money. Please support our work and keep us going in following ways:
Buy our cookbook
License our stock photos
Visit
vegalicious
photos
for our portofio of authentic vegan food stock photos and videos.