Blueberry Coleslaw
This is a really tasty coleslaw. While blueberries are in season, this recipe offers a different and colorful twist to the traditional coleslaw. The cloves add a very nice spiciness to the sweet dressing.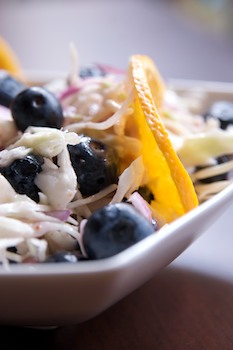 Serving Size: 4
Ingredients:
1 medium green cabbage, finely shredded
1 medium red onion, thinly sliced and separated
2 Tbs. orange zest
1 pint blueberries
For the blueberry dressing:
1/2 cup soy yogurt, (or 1/4 cup soyanaise and 1/4 cup soy yogurt)
1/4 cup blueberry vinegar*
3 Tbs. orange juice
1 tsp. mustard
1-2 Tbs. sugar
3/4 tsp. cloves, ground
salt
fresh ground black pepper
orange slice (optional to garnish)
Directions:
Slice the cabbage very finely.
Slice the onion thinly.
Place cabbage, onion, orange zest, and blueberries in a large bowl.
(Reserve a few blueberries as garnish).
Gently toss to mix evenly.
In a separate bowl, mix the ingredients for the blueberry dressing.
Pour the dressing over the salad and mix well.
Optionally garnish with an orange slice and some fresh blueberries.
* You can make a "quick" blueberry vinegar by mashing a few fresh blueberries (3 or 4) in about 1/4 cup of distilled vinegar. Mash them and stir well then strain through a sieve. The vinegar will be a light pinkish/purple color with a mild blueberry flavor. You can also make a "quick" blueberry mustard in the same way. Mash a couple of blueberries in a tablespoon of mild mustard.
Notes:
It's very easy to make your own fruit vinegars. They add such a nice flavor to dressings and sauces. As each of the berries comes into season, I usually make a pint or 2 of berry vinegar. A tasty idea also to consider, is berry mustards.
adapted from http://www.recipezaar.com/237710
Categories
Support us
Offering you this site with free recipes without advertisements or sponsored posts costs time and money. Please support our work and keep us going in following ways:
Buy our cookbook
License our stock photos
Visit
vegalicious
photos
for our portofio of authentic vegan food stock photos and videos.