Breaded Eggplant Rounds with Maranara Sauce and Basil Soy 'Ricotta'
This is a simple version that is almost like eggplant parmesan. As the eggplant is baked, it has fewer calories and and absorbs no oil. The eggplant rounds can be served as a main meal for 2 or as appetizers at a party.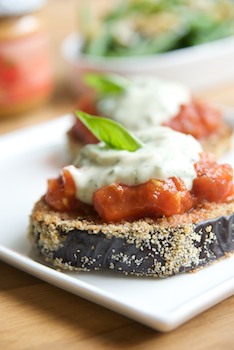 Serving Size: 2
Ingredients:
1 eggplant, cut in 1/2 inch rounds
1/2 cup plain soy yogurt
3/4 cup bread crumbs
salt and pepper
1 container (500 grams) tomato puree
1 onion, chopped
1 Tbs. oil
1 clove garlic
2 tsp. Italian herbs
1 cup soy yogurt, drained of excess liquid
1 tsp. lemon juice
2-3 Tbs. fresh basil, minced
salt and pepper
Directions:
Preheat the oven to 400 degrees F.
Put 1/2 cup of soy yogurt in a shallow dish.
Put the 3/4 cut bread crumbs, with the pinch salt and pepper in a 2nd shallow dish and mix well.
Slice the eggplant and dredge the eggplant through the soy yogurt.
Then, using dredge the eggplant in the breadcrumb mixture.
Place the eggplant rounds on a cookie sheet lined with parchment baking paper.
Bake for 15-20 minutes or until soft.
Meanwhile, make the marinara sauce.
Saute the onion and garlic in a frying pan with the oil.
Add the tomato puree and Italian herb.s
Mix well and heat.
Season to taste with salt and pepper.
To make the basil soy 'ricotta':
Drain the excess liquid from a cup of soy yogurt using a cheesecloth or other finely woven material.
Place the drained soy yogurt in a bow.
Add the lemon juice and minced basil.
Season to taste with salt and pepper.
To assemble:
When the eggplant is cooked.
Remove from the oven and place 1 or 2 eggplant rounds on each plate.
Mound some marinara sauce on top.
Add a generous portion of basil soy ricotta on top and garnsih with a basil leaf.
Categories
Support us
Offering you this site with free recipes without advertisements or sponsored posts costs time and money. Please support our work and keep us going in following ways:
Buy our cookbook
License our stock photos
Visit
vegalicious
photos
for our portofio of authentic vegan food stock photos and videos.