Review: Vegan steamed dumplings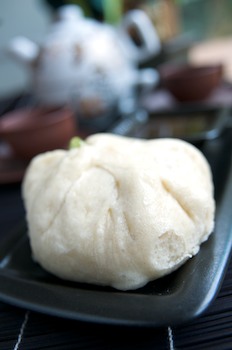 While visiting the "Gardens of the Worlds" in Berlin, we enjoyed steamed dumplings at a Chinese tea house. I have been looking forward to making them when we got back home. I followed the instructions at Riceagain to make the dough for the dumplings, and made a nice vegan filling using grated carrots, finely sliced Chinese cabbage, mung bean sprouts, a leek, sliced, and a small package of mung bean noodles cooked and cut in small pieces. We steamed the dumplings in a bamboo steamer. They were delicious. We enjoyed them with a traditional Asian dipping sauce made from tamari, ginger, chili a bit of hot chili and a bit of mirin for sweetness. There was only one thing that we were not so happy about with these dumplings, they were a bit thick and on the "bready" side. That can be easily remedied by taking less dough to make the dumpling, making it thinner and therefor having more of them. The recipe indicates making 2 long rolls and cutting each into 6 pieces. I will cut each into 8 pieces next time and I'm sure they will be perfect. They tasted great and everything else was delicious. We look forward to making them again.
Categories
Support us
Offering you this site with free recipes without advertisements or sponsored posts costs time and money. Please support our work and keep us going in following ways:
Buy our cookbook
License our stock photos
Visit
vegalicious
photos
for our portofio of authentic vegan food stock photos and videos.