Minty Fava Bean Salad with Crunchy Fried Onions
This is a simple healthy salad that is lovely to look at as well as enjoying the flavors.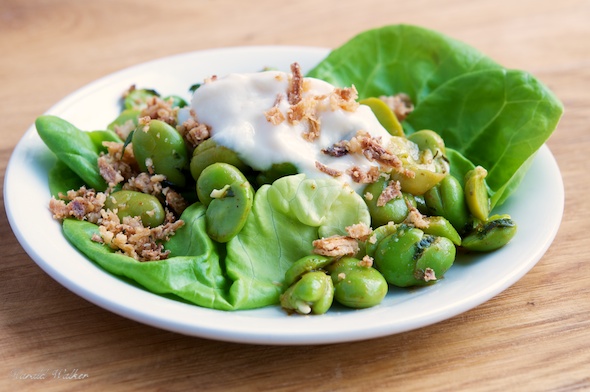 Serving Size: 4
Ingredients:
3 cups fava beans, blanched and skins removed
handful fresh mint leaves, chopped
3 tablespoons olive oil
1 lemon, juiced
1 pinch salt
1 pinch dried chili pepper
1 teaspoon cumin, ground
1 cup dried fried onions
1/2 cup soy yogurt
Prepare the fava beans. Blanche them, remove the skins and set aside in a medium bowl.
Put the olive oil in a bowl to make the dressing.
Chop the mint finely.
Add the mint to the olive oil and mix.
Add the lemon juice, salt, chill pepper and cumin to the olive oil and mix well.
Add the dressing to the beans and allow them to marinate for 15 minutes – 3 hours.
Shortly before serving, mix 1/2 cup of the dried onions in with the fava beans.
Serve the beans on a bed of lettuce, with a dollop of soy yogurt.
Top with the rest of the fried onions.
Notes:
Fava beans are one of our favorite beans. If you can not get them, you could substitute lima beans. Dried, fried onions can be bought at most grocery stores or at Asian import stores.
Categories
Support us
Offering you this site with free recipes without advertisements or sponsored posts costs time and money. Please support our work and keep us going in following ways:
Buy our cookbook
License our stock photos
Visit
vegalicious
photos
for our portofio of authentic vegan food stock photos and videos.