Creamy Pasta with Eggplant
This was a delicious meal we enjoyed lat night. It was easy to make and very filling.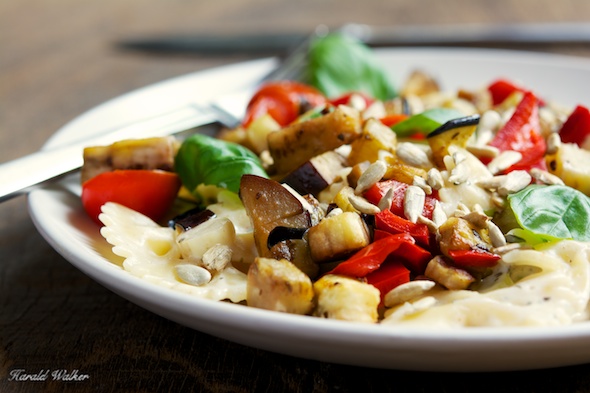 Serving Size: 4
Ingredients:
12 ounces pasta (e.g. farfalla, rotini or shells)
1 medium large eggplant, cubed
12 ounces cherry tomatoes, washed and halved
1 red bell pepper, thinly sliced
3-4 ounces pine nuts or sunflower seeds, dry toasted
3 tablespoons oil
2 coves garlic, minced
3 sprig onions, sliced
1 cup soy yogurt
1 teaspoon chili pepper
1 tablespoon mixed Italian herbs
1 teaspoon vegetable bouillon powder
handful fresh basil leaves, washed
Directions:
Bring a pot of lightly salted water to boil.
In a medium bowl, mix the soy yogurt, sliced spring onions, minced garlic, chili pepper, Italian herbs and vegetable bouillon powder.
Taste the mixture and add additional seasonings as needed, possibly salt and pepper depending upon the vegetable bouillon powder used, or maybe some nutritional yeast if you wish.
Toast the pine nuts or sunflower seeds in a dry frying pan until lightly golden then remove them from the pan to await further use.
Wash and cube the eggplant.
De-seed and slice the red bell pepper
Wash and halve the cherry tomatoes.
Put the pasta in the boiling water and cook al dente.
Heat the oil in a large frying pan and sauté the cubed eggplant.
Add the red bell pepper pieces and continue to sauté.
When the eggplant pieces have softened and are lightly browned, add the cherry tomato halves and turn the heat down.
When the pasta is cooked, drain off the water and return the pasta to the pot.
Add the creamy soy yogurt sauce to the pasta and stir to mix well.
Place the pasta on a large serving platter.
Top with the sautéed eggplant, bell pepper and tomatoes.
Snip some of the basil leaves and leave some whole and add to the top of the meal.
Serve with the toasted seeds or nuts sprinkled on top.
Notes:
We enjoyed this as a hot, main meal, but it would also make a very nice salad by allowing the pasta to cool, adding the sautéed vegetables and then later the soy yogurt sauce.
Categories
Support us
Offering you this site with free recipes without advertisements or sponsored posts costs time and money. Please support our work and keep us going in following ways:
Buy our cookbook
License our stock photos
Visit
vegalicious
photos
for our portofio of authentic vegan food stock photos and videos.