Spicy Carrot Soup with Apple Crisps
This flavorful soup was lovely as our starter on Thanksgiving evening. The crispy apple chips give a nice sweetness, to offset the slightly spicy soup, flavored wit a touch of paprika. The apple crisps are easy to make however take a lot of time in a low oven to dry.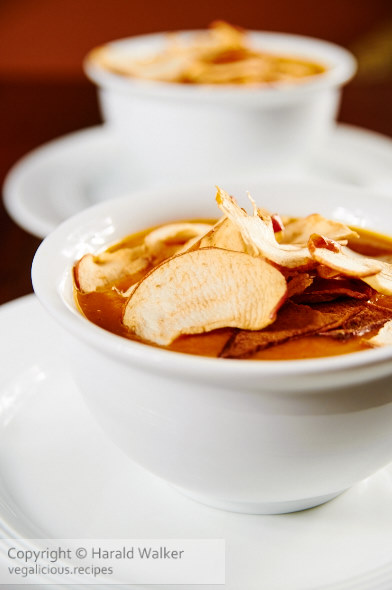 Serving Size: 4
Ingredients:
2 strong cooking apples
2 tablespoons oil
1 med. onion, chopped
2 cloves garlic, minced
500 grams (4-5) carrots, peeled and in slices
1/2 teaspoon cinnamon
1/2 teaspoon mild curry powder
1/2 teaspoon ginger. powdered
1/2 teaspoon paprika powder
2 tablespoons tomato paste
2 tablespoons rice
2 &1/2 cups vegetable bouillon
salt and pepper to taste
1 teaspoon lemon juice
Directions:
Preheat the oven to 100ºC / 210ºF.
Cut the apples in quarters and remove the core.
Very thinly slice the apples. Lay the apple pieces on a piece of baking parchment or silicone baking sheet and place the sheet in the warm oven for 1 & 1/2 to 2 hours.
In a large soup pan, heat the oil, saute the onion and garlic.
Add the carrot pieces and spices and allow them to saute for a few minutes.
Add the vegetable bouillon and tomato paste and bring to a soft boil.
Lower the heat to simmer and cook until the carrots are soft, and the rice os cooked.
Puree the soup, and season to taste with salt, pepper and a splash of lemon juice.
Serve the soup with the apple chips floating on top.
Categories
Support us
Offering you this site with free recipes without advertisements or sponsored posts costs time and money. Please support our work and keep us going in following ways:
Buy our cookbook
License our stock photos
Visit
vegalicious
photos
for our portofio of authentic vegan food stock photos and videos.