Lentil & Spinach Quesadillas with Jalapeño Avocado Cream
This is a very tasty twist on traditional quesadillas or bean burritos. Lentils lend themselves to many various cultures.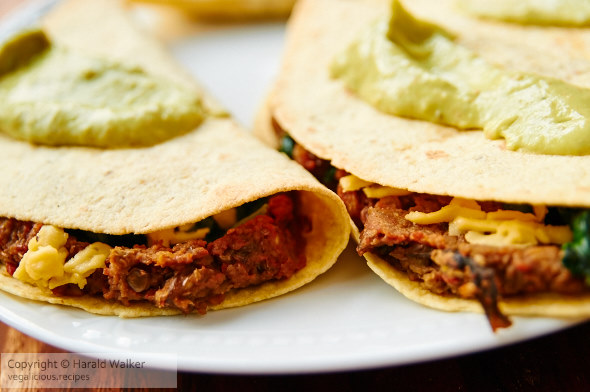 Yield: 8 quesadillas
Ingredients:
1 cup lentils (brown or green Le Puy)
1 vegetable bouillon cube
2 bay leaves, crushed but whole
8 corn tortillas (flour tortillas are also fine)
1 tsp. cumin
1/2 tsp. spicy seasoning of choice, Cajun)
1 Tbs. tomato puree
4 cups fresh spinach, washed and spun dry
1/2 cup soy cheese, grated
2 cloves garlic, minced
1 Tbs. oil
1 avocado
1 Tbs. olive oil
1 clove garlic, minced
lemon juice
Tabasco
1-2 Tbs. liquid – soy milk or cream or soy yogurt
Directions:
Cook the lentils in 2 cups of water with the vegetable bouillon cube and the crushed bay leaves, until the lentils are soft. Check fro time to time to see if more water is needed.
When the lentils are soft, remove the bay leaves and puree with the cumin, spicy seasoning and tomato puree.
Season to taste with salt and pepper.
Heat 1 tablespoon of oil in a large frying pan, put the minced garlic in and allow to lightly saute.
Add the 4 cups of washed and dried spinach and saute until the spinach has wilted.
Drain the spinach in a colander or sieve.
Peel the avocado into a small bowl.
Add the minced garlic, splash of lemon juice, tablespoon of olive oil Tabasco salt and pepper and puree all together.
Thin with soy cream, soy yogurt or soy milk, or even a bit of water.
Season to taste with salt and pepper.
Place a tablespoon or 2 of the lentil mixture on a tortilla, add some spinach, and some of the grated soy cheese and roll the tortilla.
Continue using all of the mixture and the tortillas.
Heat in the oven until warm.
Serve the tortillas with the avocado cream on top.
Categories
Support us
Offering you this site with free recipes without advertisements or sponsored posts costs time and money. Please support our work and keep us going in following ways:
Buy our cookbook
License our stock photos
Visit
vegalicious
photos
for our portofio of authentic vegan food stock photos and videos.