Sweet Potato Apricot Salad with Green Beans and Pistachios
Early summer brings the joys of fresh apricots. Orange colored things seem to go well together, and green brings out a great contrast. We enjoyed the sweet flavors of apricots and sweet potatoes, contrasted with the spicy sweet dressing and watercress. The pistachios added a tasty crunchiness.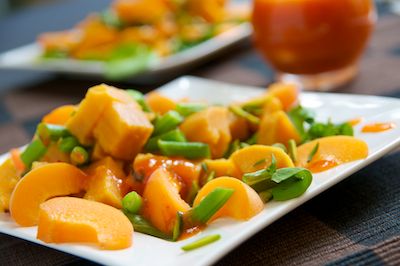 Serving Size: 4
Ingredients:
2 large sweet potatoes
1 & 1/2 cups fresh green beans, topped, tailed and cut into bite sized pieces
5 fresh apricots
handful pistachios
for the dressing:
2 apricots
2 tablespoons white wine vinegar
dash of lemon pepper
pinch salt
2 tablespoons Thai sweet pepper sauce
1 teaspoon Sambal Oelek
Directions:
Peel the sweet potatoes, and cut into medium bite sized pieces.
Place in a steamer and steam until al dente.
Remove from the steam and place in a bowl to cool.
Clean the green beans, chop off the ends and slice in pieces about the same size as the sweet potatoes.
Place in the steamer and steam until al dente.
Allow to cool and add to the sweet potatoes.
Shortly before serving. Allow the beans and potatoes to come to room temperature.
to make the apricot vinaigrette:
Slice the 2 apricots and remove the seed.
Add the rest of the dressing ingredients and puree.
Season to taste.
Slice the remaining apricots and remove the seeds. Add the apricot slices to the potatoes and beans.
We served the salad on a small bed of watercress, but it will taste nice on arugula or any salad greens.
Sprinkle the pistachios over he salad and serve the dressing on the side.
Categories
Support us
Offering you this site with free recipes without advertisements or sponsored posts costs time and money. Please support our work and keep us going in following ways:
Buy our cookbook
License our stock photos
Visit
vegalicious
photos
for our portofio of authentic vegan food stock photos and videos.