Mediterranean Kuskus Salad
This is a really delicious salad. We really enjoyed it and are looking forward to having the leftovers for lunch tomorrow, when it will be even more flavorful.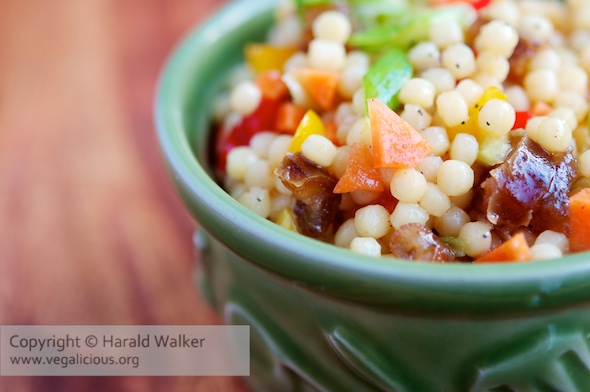 Ingredients:
1 cup Turkish kuskus (or similar large couscous)
2 & 1/2 cups water
1 teaspoon vegetable bouillon powder
2 carrots, peeled and cut in small pieces
1 red bell pepper, de-seeded and cut in small pieces
1 yellow bell pepper, de-seeded and cut in small pieces
4 spring onions, sliced thinly on the diagonal
1/2 cup sliced pitted dates
2 tablespoons olive oil
1 lemon, juiced
2 teaspoons agave syrup
salt and pepper to taste
Directions:
Bring the water to boil I a medium saucepan.
Add the vegetable bouillon then the couscous.
Lower the heat and cook the couscous until most of the water is gone and the couscous begins to soften. Then put the lid on, remove from the heat and allow the couscous to absorb the rest of the liquid and cool down.
While the couscous is cooling, cut the carrots, bell peppers, spring onions and dates.
Make the dressing by combining the ingredients and whisking vigorously.
Place the cooled couscous in a colander and place under the faucet with cold running water to rinse away the starchy stickiness.
Place the rinsed, drained couscous in a serving bowl.
Add the prepared vegetables and dates, and pour the dressing over.
Mix well and allow to season.
Shortly before serving optionally add cubed or crumbled soy cheese.
Serve at room temperature.
Categories
Support us
Offering you this site with free recipes without advertisements or sponsored posts costs time and money. Please support our work and keep us going in following ways:
Buy our cookbook
License our stock photos
Visit
vegalicious
photos
for our portofio of authentic vegan food stock photos and videos.