Vegan Eggplant Burger
These are really great burgers. Elle of Elle's New England Kitchen is a really fine cook, although omni. She often has very inspiring recipes that I try to adapt for vegans. This is one that turned out great.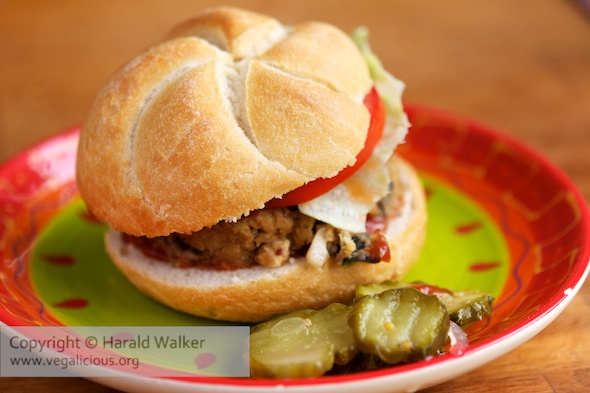 Yield: 8-10 burgers
Ingredients:
3 eggplants, cut in small cubes
6 green onions, sliced
3 cloves garlic, sliced
1/4 cup nutritional yeast
1 & 1/2 cups dried bread crumbs
1 teaspoon sambal oelek
1-2 teaspoons mustard
salt and pepper to taste
3 tablespoons oil (divided) for frying
1/2 cup water for frying
Directions:
Cut the eggplants in small cubes.
Heat 2 tablespoons oil in a very large frying pan and add the eggplant pieces to cook.
You want to cook the eggplant down to a mush, so from time to time add a bit of water to help the cooking process. It will be cooked off in the end. Continue cooking the eggplant until it is no longer little cubes, but one big mass.
Put the eggplant mass in a large bowl.
Lightly saute the spring onions and garlic.
Add the garlic and onions to the eggplant mass and mix.
Add the nutritional yeast, mustard and sambal oelek.
Add in the bread crumbs and mix well.
Taste the mixture and season to taste with additional salt and pepper if needed.
Chill the mixture for half an hour before forming the patties.
Form the patties.
Heat the last tablespoon of oil in a frying pan.
Fry the patties 3-4 minutes on each side until golden brown.
We enjoyed these on a bun, with lettuce and tomatoes and sweet pickle chips.
Note:
Adapted from Portland Eggplant Veggie Burgers
Categories
Support us
Offering you this site with free recipes without advertisements or sponsored posts costs time and money. Please support our work and keep us going in following ways:
Buy our cookbook
License our stock photos
Visit
vegalicious
photos
for our portofio of authentic vegan food stock photos and videos.