Gnocchi with Fava Beans, Sun-dried Tomatoes and Sweet Bell Pepper
A lovely colorful meal and so tasty. It would be easy to make this for a Christmas meal as it is so red and green, but it tastes great any time of the year. We have often cooked this as a camping meal as it is so easy to make but also enjoy it at home of course with some fresh salad.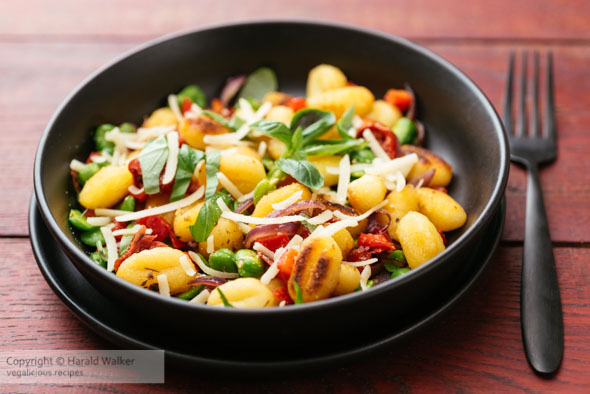 Serving Size: 4
Ingredients:
500 grams gnocchi
250 grams fava beans
1 red bell pepper, de-seeded and cut in very small pieces
1 red onion, sliced very fine and minced into small pieces
12 pieces sun-dried tomatoes, cut into small pieces
1-2 tablespoons olive oil (or the oil from the sun-dried tomato jar)
Italian herbs
garlic salt
salt and pepper to taste
handful non-dairy shredded cheese as garnish
basil leaves as garnish and seasoning
Directions:
De-seed the bell pepper and cut into small pieces.
Remove the skin from the onion and slice thinly.
Cut the sun dried tomatoes into small pieces.
Remove the outer skins from the cooked fava beans.
Julienne the basil leaves, set some aside as garnish.
Bring a large pot of salty water to boil for the gnocchi.
Add the gnocchi to the boiling water and cook for a few minutes, until they begin to float.
Alternatively, place 1-2 tablespoons of olive oil, cooking oil or margarine in a non-stick pan, and cook the gnocchi until crispy light brown.
In a large frying pan, heat the oil, and sauté the bell pepper pieces, while they are cooking, add the red onion pieces.
Sauté both until just soft
Add the sun-dried tomato pieces.
add the gnocchi to the sautéed vegetables.
Mix well so that the gnocchi are well seasoned.
Add the Italian seasonings, garlic salt and season to taste with salt and pepper.
Add the fava beans and cook until all are warmed.
Serve the meal garnished with Italian herbs or grated soy cheese if wished.
Categories
Support us
Offering you this site with free recipes without advertisements or sponsored posts costs time and money. Please support our work and keep us going in following ways:
Buy our cookbook
License our stock photos
Visit
vegalicious
photos
for our portofio of authentic vegan food stock photos and videos.