Spinach pasta with avocado pesto and pistachios
This is a new recipe that we enjoyed and will definitely do more often. It is light and fresh with the basil, and has lots of flavor from the mustard and sesame oil, as well as the zing from cayenne pepper and Tabasco. If you can not find spinach tagliatelle pasta you can make your own using the instructions of this recipe.
Serving Size: 4
Ingredients:
400 grams spinach tagliatelle (bought or homemade)
2 avocados
2 cloves garlic
1-2 teaspoons grainy mustard
½ lemon, juiced
80 grams fresh basil leaves
20 grams parsley
2 tsp. sesame oil
salt and pepper to taste
cayenne pepper
Tabasco
¼-½ cup pistachios, shelled and chopped
chopped basil and as optional garnish
for the homemade pasta:
1⅔ cups durum wheat semolina
⅔ cups pureed spinach (1/4 cup chopped spinach with 1 cup water)
½-¾ teaspoon salt
1 teaspoon olive oil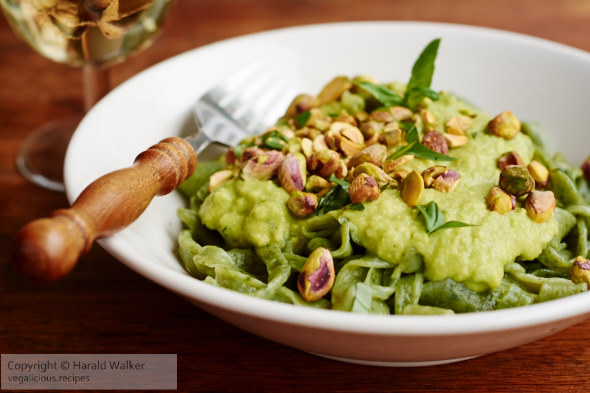 Directions:
to make the homemade spinach pasta:
Puree the spinach (fresh or thawed from frozen)  with the water. You will have a bit more than needed but sometimes the flour is dryer than others, so it may be needed.
Place the flour in a mixing bowl.
Add the salt spinach and oil.
Mix to make a dough.
Allow the dough to rest for 15 minutes to 1/2 hour.
Kneed the dough to a smooth consistency.
Roll out the dough to 1/8 inch thickness using a roller or a pasta machine.
Cut the medium wide strips for tagliatelle.
Allow the pasta to dry until needed.
to make the dish:
Bring a large pot of water to boil with a bit of salt in it.
When boiling, add the pasta and cook al dente.
Meanwhile, make the pesto.
Peel and de-seed the 2 avocados.
Put them into the blender.
Ad the the basil, parsley and lemon juice and puree,
If necessary, you can add a bit of water so the blender can puree them all, but do not add too much as you don't want the sauce to be too runny. Only about 2 tablespoons.
Add the garlic, salt, cayenne pepper salt and pepper and continue to puree.
Add the mustard and the sesame oil and puree until the mixture is very smooth.
Season to taste with additional salt, pepper or Tabasco.
Using a food processor or a coffee mill, chop the pistachio nuts coarsely.
Drain the pasta.
You can choose to put the pesto on the pasta and toss it well, serving it mixed, or you can serve the avocado pesto as a sauce that each can put on top of their pasta, thus serving themselves.
Sprinkle a generous amount of chopped pistachios on top.
Sprinkle chopped basil as option garnish on top of the meal.

Notes:
Adapted from waitrose.com
Categories
Support us
Offering you this site with free recipes without advertisements or sponsored posts costs time and money. Please support our work and keep us going in following ways:
Buy our cookbook
License our stock photos
Visit
vegalicious
photos
for our portofio of authentic vegan food stock photos and videos.