Turkish Black-eyed Pea Salad with Pomegranate, Walnuts and Za'atar Dressing
This colorful salad is an adaptation of an adaptation. I wish I had made twice as much. We really enjoyed this salad. The basic ingredients are the same but I changed the dressing. It has a nice mixture of sweet, spicy sour and with the tang of mustard.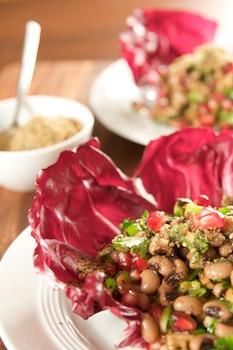 Serving Size: 4
Ingredients:
For the salad:
4 cups cooked and drained black-eyed peas
1 bunch scallions, chopped ( both white and green parts)
1/2 cup broken walnuts, toasted
1/2 cup fresh pomegranate seeds
1 cup flat-leaf parsley, chopped
lettuce or radicchio leaves.
for the dressing:
1/4 cup pomegranate juice
3 tablespoons olive oil
Juice of 3 large lemons
2 teaspoons mild grainy mustard
pinch salt
pinch cumin
Za'atar (from Ace Bakery):
1 cup (240 ml) chopped hazelnuts
3/4 cup (180 ml) white sesame seeds
1/2 cup (120 ml) poppy seeds
10 white peppercorns
1/4 cup (60 ml) cumin seeds
1/2 cup (120 ml) coriander seeds
Directions:
to prepare the dressing:
In a small bowl, whisk together the pomegranate juice, olive oil, lemon juice, mustard, salt and pepper to combine.
for the salad:
In a separate large bowl, place the drained, cooked black-eyed peas, scallions, toasted walnuts, pomegranate seeds and parsley.
Stir carefully to avoid crushing the pomegranate seeds.
Pour dressing over salad, stirring once more before serving.
Serve the salad in a lettuce or radicchio cup and dust the top with the Zahtar.
for the Za'atar:
Preheat the oven to 400°F (200°C).
Mix all the ingredients on a baking sheet and roast for about 5 minutes or until the seeds look golden.
Remove from the oven and let cool.
Spoon the mixture into a resealable plastic bag.
Close the bag and, using a rolling pin, roughly crush the seeds and nuts, taking care not to reduce them to paste.
This should take about 1 to 2 minutes.
Alternatively, use a mortar and pestle.
Or use a coffee grinder and pulse only once or twice.
Za'taar will last 1 month if stored in a tightly sealed container.
Makes 2 cups (474 ml)
Notes:
Toasting the walnuts is important, it adds a lot more flavor to the salad.
The Zahtar is also important. I made just a bit, and ground it in my coffee grinder. It does offer a very nice dimension to the salad.
Adapted from http://thewellseasonedcook.blogspot.com/ who based hers on a Food Down Under recipe.
Categories
Support us
Offering you this site with free recipes without advertisements or sponsored posts costs time and money. Please support our work and keep us going in following ways:
Buy our cookbook
License our stock photos
Visit
vegalicious
photos
for our portofio of authentic vegan food stock photos and videos.