Roasted Winter Veggies with 2 Special Sauces
The combination of these winter vegetables particularly with the two sauces was really delicious. We enjoyed roasted carrots, red skinned potatoes, cauliflower, parsnips and pumpkin. With the very special sauces of vegan creamed spinach and English piccalilli (that's pickled vegetables with mustard and turmeric). What a interesting and tasty combination they each made!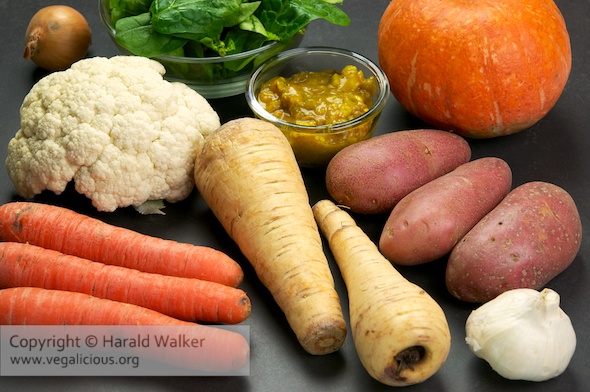 Serving Size: 4
Ingredients:
for the vegetables:
3 medium carrots
3 medium red skinned potatoes
1/2 small cauliflower
2 parsnips
1/4 pumpkin or butternut squash
olive oil for baking
for the vegan creamed spinach:
1 & 1/2 lb. fresh spinach (or 1 package frozen)
1 tablespoon oil
1 small onion
1 clove garlic
2-3 tablespoons soy yogurt
pinch salt and pepper
pinch of nutmeg (optional but very nice)
2-3 tablespoons dried bread crumbs to thicken
for the English piccalilli:
Directions:
Peel the carrots and slice as you wish to present them.
Scrub the red skinned potatoes well and slice in thick rounds.
Break the cauliflower into smaller florets.
Peel and slice the parsnips as desired.
Peel and slice the pumpkin into similar sized shapes as the parsnips and carrots.
Place all in a baking dish and drizzle the oil over the vegetables.
Sprinkle with a bit of salt and bake in a preheated 450 F /  232 C oven for 25-35 minutes.
After about 15-20 minutes of baking, take baking dish out of the oven and turn the vegetables so that they cook evenly. Check for doneness with a fork. Return for another 10 minutes or as needed.
While the vegetables are baking, make the spinach sauce.
Clean the spinach and roughly chop.
Chop the onion and mince the garlic.
Heat the oil in a large frying pan.
Add the onions and saute.
When the onions begin to soften, add the garlic and then the spinach.
Stir well while the spinach is wilting.
Cook only until the spinach has wilted.
Remove from the heat and place in a large blow.
Depending on the amount of moisture, you may want to squeeze some of the liquid off.
Using a knife and fork, we further chopped the spinach. We did not want to puree the mass, only have a finely chopped spinach.
Add the soy yogurt, salt and pepper and nutmeg if using.
Stir to blend.
The mixture will be rather liquid, so you will want to add some dried bread crumbs to make it a thicker sort of dip or sauce. Start by adding 2 tablespoons of dried breadcrumbs. Add more if you wish it to be thicker.
When the vegetables are roasted, remove from the oven and allow to slightly cool.
Serve the roasted vegetables on a plate with both sauces.
Note:
We would suggest you buy a nice jar of piccalilli. All of the various brands here are vegan. If you want to make your own, our favorite piccalilli recipe (without the honey) is from Hugh Fearnley-Whittingstall and just like other pickle recipes it takes about 6 weeks to season properly.
Categories
Support us
Offering you this site with free recipes without advertisements or sponsored posts costs time and money. Please support our work and keep us going in following ways:
Buy our cookbook
License our stock photos
Visit
vegalicious
photos
for our portofio of authentic vegan food stock photos and videos.